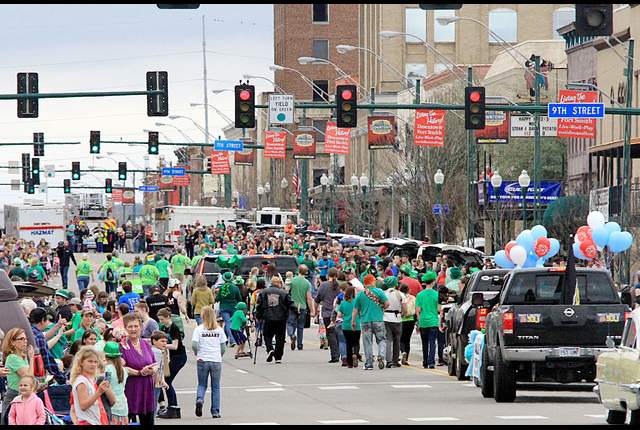 The annual St. Patrick's Day Parade, hosted by the Fort Smith Police Department, was a success as more than 40 entries participated and hundreds gathered alongside Garrison Avenue and on balconies of businesses downtown to be a part of the festivities and fun.
The 2016 parade was Saturday at the intersection of Garrison Avenue and North 13th Street, in front of Immaculate Conception Church.
For seven blocks toward the Arkansas/Oklahoma border, those who participated in the parade marched, drove and rode in front of a sea of green. Spectators saw a bit of everything from pageant beauties of all ages riding on the backs of convertibles to Dandy Dolls riding on horses to tough babes of the River Valley Roller Girls riding on skates. From antique to new rides, whether trucks or cars, bicycles, trailers and golf carts also were seen at the parade. Behind, many participants walked while waving at the hundreds who showed up to enjoy the show.
The parade began with a bang, literally, with a gunfight by the Indian Territory Pistoliers. Bagpipe players showed their talent while marching to a mesmerized crowd playing the distinct instrument.
Oogah and dixie horns had the crowd laughing while they took pictures of participants in the parade and fellow spectators who dressed up for the celebration. Those who came out to have some fun were of all ages and from all over the greater Fort Smith area. One woman even came from Las Vegas, she said.
"I came all the way to Fort Smith for this parade and to help my friend celebrate her 50th birthday," said Ruth Koprek of Las Vegas.
Her friend, Donna Barrett, was dressed in festive attire from head-to-toe. Barrett rocked a headpiece that was full of colors and lit up as though it sparkled. She also dressed festive in a tutu and of course, a green shirt, but her green shirt, she said, has a special meaning to her.
Barrett said she was out celebrating Saturday and dressed festive because, "St. Patrick's Day, how wonderful, and I am also an ovarian cancer survivor. I am a walking miracle. So I figure, I should live large, and my shirt says, 'River Ovarian Cancer Alliance.' It means a lot to me."
When the parade ended and families and friends began to leave the area, many were heard telling others, "This was fun," and "How neat."
In all, the day was a success, Koprek said. "I am glad I came (from Vegas) for this event," she added.
– See more at: http://swtimes.com/news/hundreds-gather-fort-smith-st-patrick-s-day-parade#sthash.Z5Tkdy1s.dpuf