It All Started with a Letter...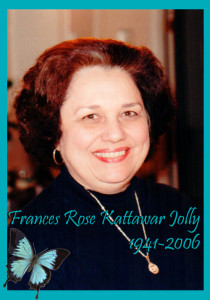 River Valley Ovarian Cancer Alliance (RVOCA) Founder, Blanche West, became involved after her sister-in-law, Frances Rose Kattawar Jolly, was diagnosed with ovarian cancer in February 2006. Frances experienced what we now recognize as classic ovarian cancer symptoms for over 2 years, but doctors were unable to uncover the underlying cause. She struggled with the diagnosis and treatment of ovarian cancer for ten months. Shortly before her death in November 2006 at the age of 65, Fran and Blanche discussed the copy-cat symptoms and how important it was to help make women aware of them so that other families wouldn't have to go through what Fran's did. The pair made a pact to "do something" to raise awareness about the cancer that whispers.
In 2007, Blanche West wrote a letter to the editor of the local paper detailing her sister-in-law's experience and their pact to educate women about this disease. She asked community members to join her fight in forming a local organization devoted to this cause. After receiving an outpouring of support and interest Blanche wrote a follow up letter two weeks later to the same newspaper outlining the details of the group's first meeting.
Through countless volunteer hours, generous financial support, positive thoughts and many powerful prayers, the River Valley Ovarian Cancer Alliance has been able to help many women & families in our community. RVOCA's goal is, and has always been, to give back through programs, awareness and assistance to those ladies and their families fighting ovarian cancer. Listed below are just some of the ways RVOCA is  spreading awareness regarding the signs and symptoms that can lead to early diagnosis.