It All Started with a Letter...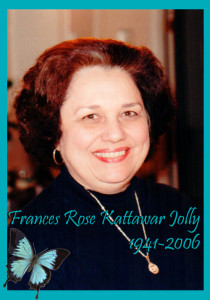 River Valley Ovarian Cancer Alliance (RVOCA) Founder, Blanche West, became involved after her sister-in-law, Frances Rose Kattawar Jolly, was diagnosed with ovarian cancer in February 2006. Frances experienced what we now recognize as classic ovarian cancer symptoms for over 2 years, but doctors were unable to uncover the underlying cause. She struggled with the diagnosis and treatment of ovarian cancer for ten months. Shortly before her death in November 2006 at the age of 65, Fran and Blanche discussed the copy-cat symptoms and how important it was to help make women aware of them so that other families wouldn't have to go through what Fran's did. The pair made a pact to "do something" to raise awareness about the cancer that whispers.
In 2007, Blanche West wrote a letter to the editor of the local paper detailing her sister-in-law's experience and their pact to educate women about this disease. She asked community members to join her fight in forming a local organization devoted to this cause. After receiving an outpouring of support and interest Blanche wrote a follow up letter two weeks later to the same newspaper outlining the details of the group's first meeting.
Through countless volunteer hours, generous financial support, positive thoughts and many powerful prayers, the River Valley Ovarian Cancer Alliance has been able to help many women & families in our community. RVOCA's goal is, and has always been, to give back through programs, awareness and assistance to those ladies and their families fighting ovarian cancer. Listed below are just some of the ways RVOCA is  spreading awareness regarding the signs and symptoms that can lead to early diagnosis.
Here are some of the ways we have helped our community and the fight against Ovarian Cancer.
Distributed survivor totes to newly diagnosed Ovarian Cancer patients
Donated over $30,000 to UAMS for Ovarian Cancer Research
Provided emergency funds and gas cards to patients with financial needs
Funded the Gynecological Support Group at the Reynolds Cancer Support House
Attended and distributed material at over a dozen Health Fairs and Expos in Fort Smith, Van Buren, Greenwood, Lavaca and Sallisaw
Provided speakers for various civic organizations, including Sigma Kappa Sorority on UCA campus in Conway
Handed out educational materials and walked in the downtown Fort Smith St. Patrick's Day parade and the Veteran's Parade in Chaffee Crossing
Sent representatives to the FORCE Conference to learn about genetics and the BRCA gene in San Diego and Orlando
Sent representatives to the annual Ovarian Cancer Research Alliance Ovarian Cancer National Conferences in Washington DC, Chicago, and Seattle
Hosted the Teal to Teal educational luncheon
Participated in Charming Charlie's Shop for a Cause
Put out 2 informative commercials produced by Branchout Studios
Donated Memorial Benches at Creekmore Park, Riverfront Park, Sallisaw, and Van Buren Freedom Park
Hosted the 8th annual Teal Night in Tahiti fundraiser
Tied the Town TEAL in Fort Smith, Sallisaw, Van Buren, Bonanza, Mulberry, Hackett, Coca-Cola Bottling Co., Vache Grasse Country Club, and Baptist Health & Mercy Hospital campuses
Hosted Laugh and Learn Educational dinner with Ovarian Cancer Survivor and Comedian, Karen Mills
Hosted 13 Wings of Hope Memorial Butterfly Releases
Participated in the 5th annual Sparks Stampede 5K/10K Race and Fun Walk
Hosted the Teal Stampede in 2020 and 2021
Continued involvement in the community by attending numerous Fort Smith Chamber of Commerce events.